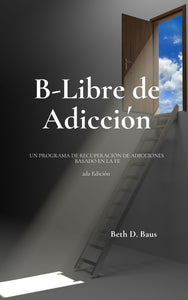 B-Libre de adicción Un programa de recuperación de adicciones basado en la fe 2da edición  (Spanish Version) 
Overcoming addiction is a long journey. Incorporating a healthy support system can go a long way in making your recovery process more successful. Developing tools is also important so that when you are ready, you have what's necessary to start rebuilding your life.
This workbook, B-Free from Addiction: A Faith Based Addiction Recovery Program, was written as a practical guide towards lasting recovery from any addiction. The faith-based approach presented here can be used one-to-one or in a group setting. It is an easy read that focuses on HOW to change rather than WHY.
This 15-week program strives to help you be more aware of the habits of heart and mind. - 8 1/2 by 12" workbook - $15 each